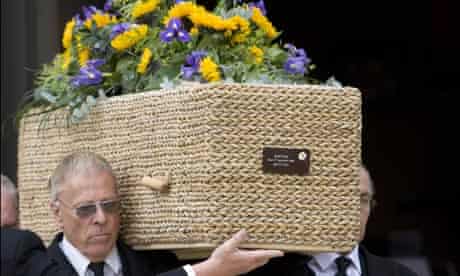 The flamboyant life of Keith Floyd, the pioneering TV chef and restaurateur, was celebrated at a typically unconventional funeral in Bristol yesterday.
Floyd, 65, who suffered a heart attack last month after treatment for bowel cancer, was cremated in a coffin made from banana leaves and draped with sunflowers, a reminder of his beloved Provence.
Mourners at the humanist service – some wearing colourful bow ties in honour of his sartorial trademark – heard reminiscences not only of Floyd's reckless vivacity and love of good food and wine, but also of the pain his reliance on alcohol and sometimes selfish behaviour could bring to others.
His daughter Poppy used her eulogy to thank her father for "lobster-catching, the love of France that we both share, and that beautiful white Bentley we will probably now have to auction to pay for the funeral".
The coffin was taken out for cremation to the accompaniment of Waltz In Black by the Stranglers, the theme tune to Floyd's best-known television show.
Floyd entered the world of cooking after brief stints in journalism and the military and was discovered in 1982 by a BBC producer who dined at his restaurant in Bristol. Floyd's naturalistic and occasionally haphazard cookery shows, in which he was habitually accompanied by a large glass of wine, made him a household name. He was considered a pioneer of the genre, but while later celebrity chefs such as Marco Pierre White and Jean-Christophe Novelli paid tribute to Floyd after his death, neither attended the funeral because of work commitments.
Poppy Floyd, 25, the younger of his two children from four marriages, said a TV documentary screened on the night he died had shown the ravages caused by his drinking. "Many of us here know the reality hidden behind fame and celebrity is not as glorious as we would like to imagine. I suppose a lot of that truth has now been revealed," she said. "Whatever the pain and bitterness caused by your absence and however many paths that you took that shall never be mine, I would like to thank you for the passion, the wildness and glorious colours you passed on to us, colours now engraved in our souls."
The journalist and royal commentator James Whitaker closed the service with a tribute summing up his close friend: "The reality of Keith was that he was an extraordinary character who cooked sublimely, married recklessly and was extravagantly generous, often with other people's money, who smoked so much that you could hear the nails hammering home."
https://www.theguardian.com/lifeandstyle/2009/sep/30/keith-floyd-tv-chef-funeral